News
iGEM News
iGEM 2022 Announcements
2022 Team Impact Grant
May 20, 2022
We are excited to announce that Team Impact Grant is live for the 2022 iGEM season! The goal of the Impact Grant is to support iGEM Competition teams that are building upon the past of synthetic biology to create the future of the field.
This year, 90 iGEM teams will be selected to receive $2,500 USD each. Apply by June 20.
Invitation to participate in the 6th InterLab Measurement Study
May 17, 2022
For synthetic biology measurements, one of the big challenges has been that fluorescence data usually cannot be compared because it has been reported in different units or because different groups process data in different ways.
Through the InterLab study, the Engineering Committee has been developing a robust measurement procedure for green fluorescent protein (GFP) over the last several years (see below). This year, we will even extend from one-color calibrations (green) to multi-color calibrations (green-red-blue)! Previous teams whose InterLab data was accepted have been included in peer-reviewed scientific publications.
iGEM Competition teams are invited to participate in this year's study. If you are interested in participating, please fill the linked survey.
Indian League Undergraduate Synbio Competition - Registrations Open
May 12, 2022
The Indian League aims to build the Synbio infrastructure in India by encouraging participants to develop tools to make science accessible and to empower them to address local problems with Synbio.
Early Bird Registration for the Indian League Undergraduate regional competition is open now! Early bird registration ends June 11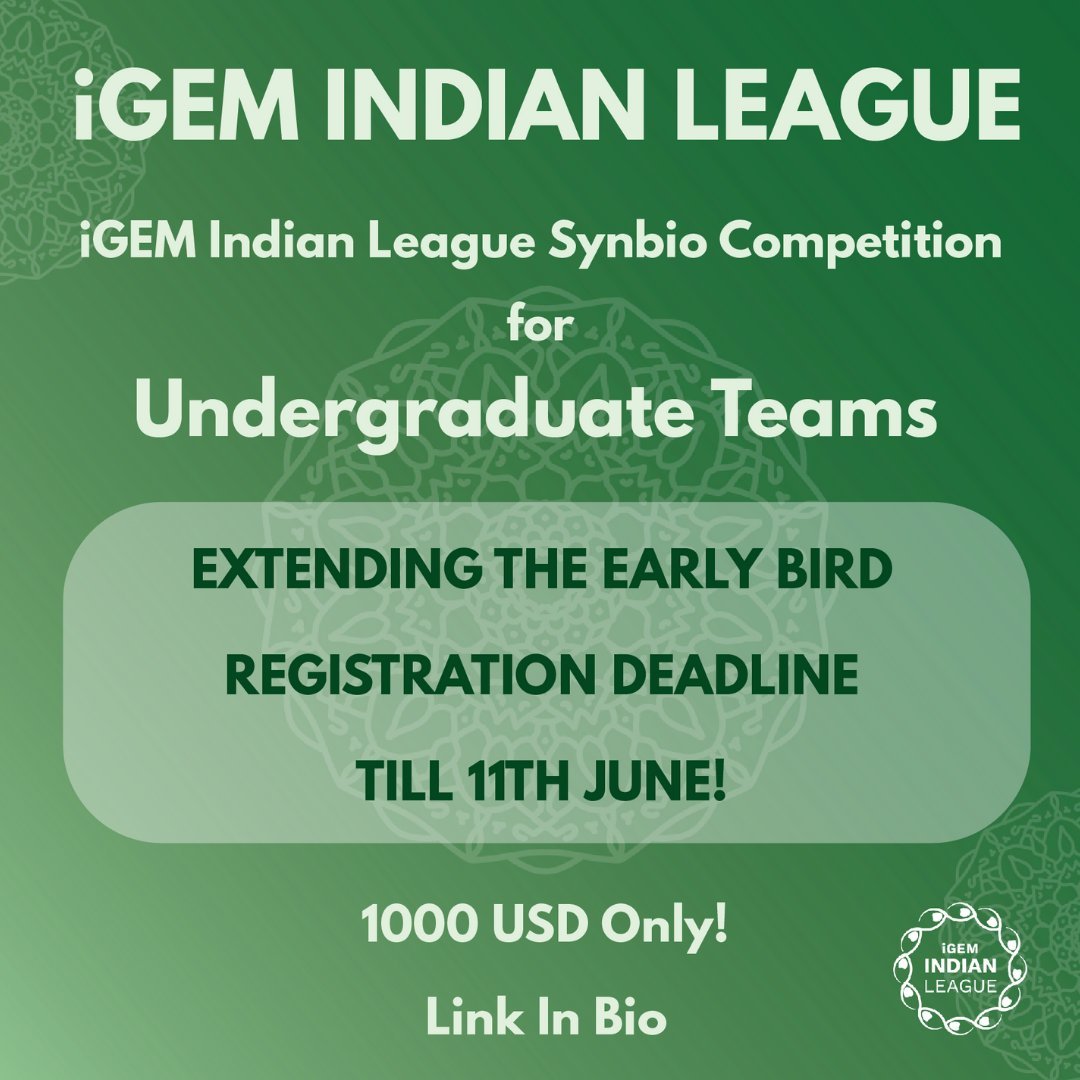 Save the date: 2022 Grand Jamboree
May 4, 2022
After 15 years in Boston and 2 years online, the iGEM Jamboree is back and grander than ever!
The Grand Jamboree is a showcase of the future of synthetic biology, and home of the world's largest SynBio community of researchers, industry, investors, startups and policy makers.
Join us at this celebration of synthetic biology in one of the most beautiful cities in the world - Paris, France!
Register Your Team for the 2022 iGEM Competition!
April 4, 2022
Team registration is now open for the 2022 iGEM Competition. Join the thousands of iGEMers around the world pushing the boundaries of synthetic biology to tackle everyday problems facing the world. Register and pay for your team by April 29 to take advantage of the regular registration rate. Late registration ends May 27.
Applications are open for the 2022 Mentorship Program
April 1, 2022
Are you a new iGEM team looking for some additional mentorship from experienced iGEMers?
Are you an experienced iGEMer looking for a way to give back to the community?
The iGEM Mentors Network is recruiting mentors and 2022 iGEM Competition teams looking for mentorship for the 2022 Mentorship Program! Apply by April 18.
Welcome to the new iGEM Ambassadors for 2022!
March 21, 2022
Our 52 new iGEM Ambassadors, passionate iGEMers located all over the world, will be the voice of iGEM & SynBio in their regions.
Are you planning to create an iGEM team? Are you a past iGEMer thinking about how you can engage with the community? Do you want to solve local challenges in your region through competitions and build a synbio ecosystem? The iGEM Ambassadors are here to support you to achieve that and much more.
Join the iGEM Diversity & Inclusion Committee in 2022!
March 21, 2022
The iGEM Diversity & Inclusion Committee is looking for new members in 2022! Our committee works to make iGEM as inclusive as possible for people from all different backgrounds. Apply by April 8.
Synthetase: High School Workshop (Indian League) registrations are open
March 21, 2022
This is a 16 day event, from 7th May - 22nd May, giving participants an introduction to fundamental concepts in Synthetic Biology through live lectures by reputed speakers from premier institutes across the world and panelist discussion sessions, along with training in various computational softwares used in Synthetic Biology. Students from 8th-12th standard are recommended to participate.
iGEM Foundation Statement on the Russian Invasion of Ukraine
March 14, 2022
The Russian invasion of Ukraine is completely unacceptable to the iGEM community and we stand with the rest of the scientific community in denouncing Russia's actions. The Board of Directors of the iGEM Foundation has determined that teams representing Russia will not be allowed to participate in this year's iGEM Competition, in new iGEM Leagues, or other iGEM community activities.
Resources: Get help with your plant synthetic biology project
March 10, 2022
Are you thinking about working with plant synbio? The Engineering Committee is here to help! Planning a plant project can take longer than your average synbio project, especially in the iGEM Competition, so we recommend that you get started early. Contact the Plant SynBio sub-committee at any time for:
Recommendations for plant basic parts and vectors to kick-start your project
Consultations with plant enthusiasts to guide your first steps
Resource collections for plant engineering
Reach out at engineering-plants [AT] igem [DOT] org and let us know how we can help! More Information will be available soon on the new iGEM Technology website:
Thinking about launching a startup? Learn how with iGEM EPIC!
March 9, 2022
Upcoming Event: EPIC Hackathon - March 18-21
If you are curious about entrepreneurship or EPIC, join us in our first event of 2022! Come and have a rewarding weekend of networking and working on SynBio challenges with your peers. Sign up below for your chance to win $3000 USD!
Sign up by March 13
EPIC Venture Creation Labs - April 11-25
If you are already keen on starting on your entrepreneurial journey, sign up for our Venture Creation Labs! You will receive comprehensive training in business and entrepreneurship concepts, learn from pre-eminent founders who have done this before, and engage with a growing community of fellow innovators.
Sign up by March 20
iGEM Design League 2022 registrations are open
March 9, 2022
The second year of our new Design League program is starting soon!
iGEM Design League is designed to help Latin American students kickstart their synthetic biology careers, with a competition focused on the design step of the synthetic biology cycle. Students take the challenge to design with biology to solve local problems in creative and innovative ways. Design League teams also get access to iGEM Academy, a synbio educational experience featuring talks from industry experts. Most importantly: Teams do not need lab, infrastructure or equipment to start and participate in iGEM Design League!
Don't miss this opportunity to be part of the largest synthetic biology community in Latin America.
We are hiring! Developer/Software Engineer, GitLab Wiki Wizard
March 1, 2022
We are looking for communicative, proactive, methodical, design-forward people with great time management skills. We are a team just like any other iGEM team, composed of passionate iGEMers working on creative projects to completely reshape iGEM's software infrastructure and design. Working here, you will have chances to lead or contribute to a wide variety of projects. All our positions are work-from-home, but we will have occasional meetings and hackathons in Europe.
Apply ASAP!
Join the iGEM Engineering Committee in 2022!
January 10, 2022
The iGEM Engineering Committee is organizing for the 2022 season and looking for volunteers. The mission of the Engineering Committee is to:
Educate iGEM teams on good synthetic biology engineering practices
Establish, disseminate and promote the use of widely accessible measurement and calibration protocols and standards
Cultivate community development of biological devices with well-understood and predictable behavior
Applications are being accepted on a rolling basis.
iGEM 2021 Participation Certificates Available for Download
January 6, 2022
Participation certificates for the 2021 iGEM Competition are now available for download online. Note: You must log in, and be an approved team member listed on an official team roster to generate a certificate. Please contact hq [AT] igem [DOT] org with any questions.
iGEM 2017 Announcements
EXHIBIT at the Giant Jamboree
Exhibitor opportunities include:

Exhibitor Booth: An amazing opportunity for our attendees to get to know you and for you to meet with the 3,000 members of our synthetic biology community, comprised of academics and experts from around the globe.
Career Fair: Recruit for open position or graduate programs.As part of the iGEM 2017 Giant Jamboree weekend, iGEM is hosting a career fair event to help connect leaders in industry and academia with the synthetic biology community.
Register before August 25, 2017 and be recognized in the event booklet!
REGISTER Early for the Jamboree and Avoid Late Fees
The Giant Jamboree is open to the public, and all are welcome to attend and celebrate the achievements of our remarkable teams. Be among leaders and join 3,000 attendees from academia and industry. Uncover trends & innovations as top institutions showcase their projects. Register before August 31, 2017 and avoid late fees!
NOTE: All iGEM 2017 teams must register and pay to attend the Giant Jamboree by the August 31 deadline. By registering to attend, you secure your team presentation slot and poster slot at the Giant Jamboree. If your team does not register to attend, we will assume that you will not be attending the Giant Jamboree and your team will not receive an assignment.
Introducing iGEMeta
iGEMeta is an initiative to bring together the iGEM community through data. Through iGEM's history, the competition has generated about 2,000 projects, from over 40 countries which the help of 30,000 participants. This immense amount of work and data generated by our community can now be viewed through the sophisticated analysis from Just One Giant Lab (JoGL)
Through iGEMeta we reflect upon the achievements of the past and draw conclusions to improve the competition and synthetic biology. We hope that our efforts highlight the best of iGEM and capture the scale of what our community can and has already done. Map team progress by visiting iGEMeta.
See how wiki edits impact team performance by viewing a 'waterfall' image, heat map of team behavior and collaboration diagram.
ATTEND the Giant Jamboree
The Giant Jamboree is an annual event that showcases work from the iGEM Competition. All iGEM teams are invited to present their synthetic biology projects and compete for prizes. This year 310 international, multidisciplinary teams (at the university and high school level) are participating in the iGEM competition and are eager to share and celebrate their work. The event takes place on November 9-13 at the Hynes Convention Center in Boston, MA, USA.
30% OFF SynBioBeta events - Offer Open to ALL iGEMers
Interested in attending the next SynBioBeta event? SynBioBeta San Francisco will be held on October 3-5, 2017 and all iGEMers (past and current participants) qualify for a 30% discount off their attendance fee. Learn more about this offer (and all Partner Special Offers) by visiting: page.
Giant Jamboree VOLUNTEERS
The iGEM 2017 Giant Jamboree will be from Thursday November 9 to Monday November 13 in the Hynes Convention Center in Boston, Massachusetts, and we're looking for volunteers to help with the event! Join us and see iGEM behind the scenes.
310 Teams are Participating in iGEM 2017!



See where all the teams are from by accessing the interactive Google map below.
Apply to JUDGE the iGEM Competition!
We are looking for talented and enthusiastic people to apply to judge teams at the iGEM 2017 Giant Jamboree. Last year, we had about 150 volunteer judges from many different disciplines, from all over the world to evaluate our 300 teams. Apply by June 30th!
iGEM speaking at SB7.0 in Singapore
iGEM is attending the 7th international meeting on Synthetic Biology on June 13 - 16 in Singapore. Make sure to stop by and say hello at our exhibitor booth and come hear iGEM's talks.
Meagan Lizarazo, iGEM Vice President, will be a speaker in the 'Sharing & Education' session on June 15 at 1:30p - 3:30p
Piers Millett, Director of iGEM Safety & Security, will be a speaker in the 'Security' session on June 15 at 11:00a - 12:30p
Megan Palmer, Director of Human Practices, will be a speaker in the 'Security' session on June 15 at 11:00a - 12:30p
iGEM speaking at SynBioBeta London
iGEM will participate in the 'World Showcase' Lighning talk on Tuesday April 4th. Attending the event? Make sure to stop by and say hello at our exhibitor booth. Meagan Lizarazo, iGEM Vice President, will be joining industry leaders on April 4th at the Session1: Lightning Talks, World Showcase. Come and learn what's new with iGEM and make sure to stop at our booth for some tasty treats!
iGEM Strategy Retreat: Engaging the Community
iGEM hosted its first global strategy meeting in Granada, Spain in February, 2017. Over 20 leading experts in synthetic biology from Europe, North America, and Asia joined iGEM headquarters for this inaugural meeting.

With the goal of understanding regional dynamics, all participants were invited to discuss their experiences and views about iGEM and synthetic biology overall. The meeting also focused on enhancing the iGEM community experience beyond that of the competition and the Giant Jamboree. Look for more details on community engagement activities in the upcoming months as we prepare to introduce a new program for 2017 and beyond!

To learn more about what was discussed visit https://igem.org/Global_Impact

iGEM Safety & Security Retreat: Engaging the Community
In February 2017, iGEM held it's first Safety and Security Retreat. The meeting brought together experts from around the world, and looked at both emerging issues that could challenge safety and security in synthetic biology and what iGEM might need to do to address them.

Efforts at the meeting were expert-led, drawing upon the collective knowledge present to help identify issues iGEM will need to deal with in the shorter-term and those we will need to consider in the years to come. This meeting was the first in a series of planned events on safety and security.

To learn more about what was discussed visit the here and remember to check out the Safety Hub for competition related details.
iGEM @ SXSW
iGEM's ground breaking work on safety and security was showcased at SXSW on March 15th. A panel arguing that it was time for a security update for biotechnology saw iGEM's work in this area being highlighted as how to effectively build a security culture and laying the foundations for more sustainable, scalable, security solutions. The panel included current or former iGEM track and committee chairs in software, human practices and safety and security.

Learn more by visiting: Biotechnology Needs a Security Update
Sponsor iGEM and Show your SUPPORT to Teams
Not a team member, no problem! Become a Partner and support teams and the iGEM Program. Have the next iGEM project be on your focus area with our Partner Innovation Proposals or have your product or service be integral to their work by offering Partner Special Offers

Become a Mentor and help current teams navigate through iGEM. Give advice and share your experiences and lessons learned with teams new to iGEM.

Visit the COMPETITION Hub
Check out the 2017 Competition Hub to learn about iGEM 2017! Here you'll find details about Team Requirements, Registration, Rules of Conduct, Required Deliverables, Track Selection, and Positive Contribution. All team members should read through everything on the Competition Hub before kicking off your iGEM project!

iGEM PLOS Online Peer Review Jamboree
On the 28th of January, iGEM, PLOS and Breezio hosted the first online Peer-Review Jamboree for iGEM 2016 projects. Twenty-two teams submitted high quality manuscripts through the Breezio online platform to be considered for review in PLOS Collections. 73 users from 17 countries left almost four hundred comments for the authors of the articles.
Please see our PLOS iGEM Collaboration page for more information about the event, links to papers and instructions on next steps for authors.
iGEM speaks at United Nations Biodiversity Conference​
This past December Meagan Lizarazo, iGEM Vice President, made a statement in support of synthetic biology at the United Nations BioDiversity Conference in Cancun, Mexico. iGEM headquarter staff, along with 5 iGEM delegates, participated in the event, joining over 7,000 participants from 170 countries and over 400 organizations as they came together to address biodiversity on a global scale. For more on the conference and iGEM's participation visit us at: https://igem.org/Global_Impact
Welcome to 2017.igem.org
iGEM is excited to announce the launch of the iGEM 2017 competition website! 2017.igem.org will be your key resource for all competition related details and announcements. Visit this page often for news and updates. To get started, learn about competition requirements and registration by visiting 2017.igem.org/Competition. Major deadlines have been posted! See the competition calendar for details on when things are due by visiting: ​http://2017.igem.org/Calendar
Partner Offer: iGEMers receive 30% off SynBioBeta Event Registration
A special discount offer is available for the iGEM community. Both past and present iGEM participants can attend SynBioBeta London (April 4-6) and SynBioBeta San Francisco (October 3-5) at a discounted price. To learn more about SynBioBeta and receive your 30% discount code click here.
iGEM 2017 announces Partner Sponsor & Special Offers
We are proud to announce our Partner Sponsors & Special Offers for iGEM 2017. We welcoming back IDT's free custom DNA offer, Mathwork's free software kit (includes 12 products!) and Agilent's free SureVector kit. Visit the Partner's page to learn more and make sure to check back often for the latest updates.
New to iGEM? Not sure what to expect?
Experience iGEM by looking back at the completed season. Visit the official iGEM 2016 Giant Jamboree photo library or watch the wrap up video of event highlights here.
iGEM in the News!
Hear what others are saying about iGEM. Visit the iGEM in the News page for a growing list of articles and videos.